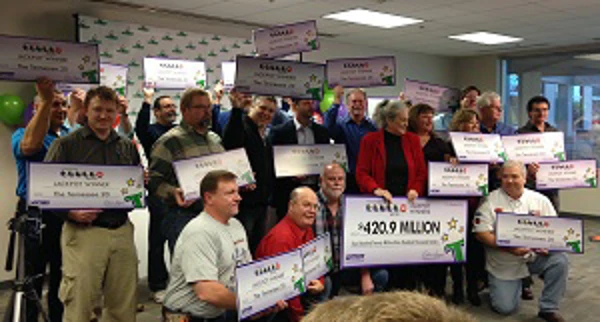 Tennessee – A group of 20 longtime co-workers now share more than their place of work-together they won, and will split, a $420.9 Powerball jackpot from the drawing held Nov. 26, 2016. The "Tennessee 20," as they quickly dubbed themselves after the big win, joined Tennessee Education Lottery officials today to claim their winnings.
"All this time playing has been fun, but I never truly thought we would win," said Amy O'Neal, the group's spokesperson. "It's still sinking in, but we're having a blast!"
The winners, from 13 different cities in the mid-south, work together at North American Stamping, North 1 LLC, Portland, TN. They primarily handle sales and quality control at the auto parts manufacturing plant.
"What a great day for Tennessee!" said Rebecca Hargrove, President and CEO of the Tennessee Education Lottery. "We couldn't be happier for this wonderful group of friends. The excitement from winning experiences like these is a key part of our success raising funds for education programs in Tennessee."
The lucky ticket was sold at Smokeshop, 711 Scottsville Road, Lafayette, Tenn. Owner Joyce Gregory was on-hand to receive a $25,000 selling bonus and to join Amy, a long-time loyal customer, the other winners, family members and Tennessee Lottery staff members.
Immediate plans varied-from a vacation in Italy, helping family with medical bills, sending children to college and purchasing new vehicles-but one thing was unanimous: the desire to help others.
"This group has a heart of gold," said Steve Huffman, who lives in Macon County. "They always have and they always will".