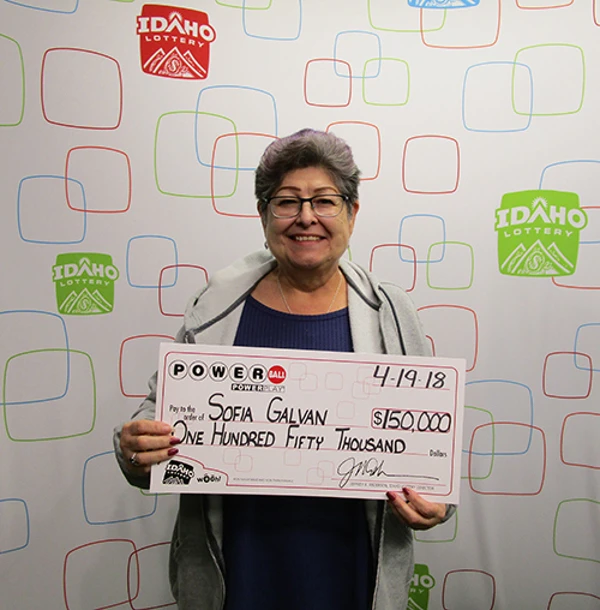 Idaho – From a power bill to the Powerball, one lucky Pocatello woman is $150,000 better off for paying her light bill and then checking a recent Idaho Lottery ticket.
For the past three weeks, Sofia Galvan of Pocatello had unknowingly been carrying around a winning Powerball ticket worth $150,000 in the "lucky" envelope of her Idaho Power bill. Yesterday, after paying her Idaho Power bill, Galvan noticed the unchecked Powerball ticket in the envelope. She took the ticket to a store and had the clerk check to see if it won.
"I heard the 'Wooh! Wooh!' sound and I knew it was a winner," exclaimed Galvan. "The clerk told me though I needed to claim it in Boise. It was too much for her to pay at the store. I didn't know how much I'd won. I thought I'd won maybe $700."
Once Galvan arrived at Lottery Offices in Boise, the true value of her Powerball ticket was learned. Her $700 winner was actually a big Powerball with PowerPlay winner from the March 31, 2018 draw.
"I found out right here that I won $150,000. I'm kind of shaking," she said.
Her ticket matched four of the first five numbers plus the Powerball and had the PowerPlay multiplier. PowerPlay is an additional $1 per play at the time of purchase and multiplies non-jackpot winning tickets by the multiplier selected for that draw. On March 31, the multiplier was 3, turning her $50,000 winner into $150,000.
Galvan purchased her winning ticket from the Common Cents Store located on 5th Avenue in Pocatello. This store is quickly gaining a reputation as the luckiest store in Pocatello. In the past 18 months, this Common Cents Store has sold two $10,000 winners on the Idaho $1,000,000 Raffle game (one each in 2016 and 2017) plus this Powerball winner for $150,000. For their part in selling the winning ticket, Common Cents receives a bonus of $15,000.
Galvan plans to use her winnings to improve her personal vehicle situation and perhaps get some furniture with her winnings.