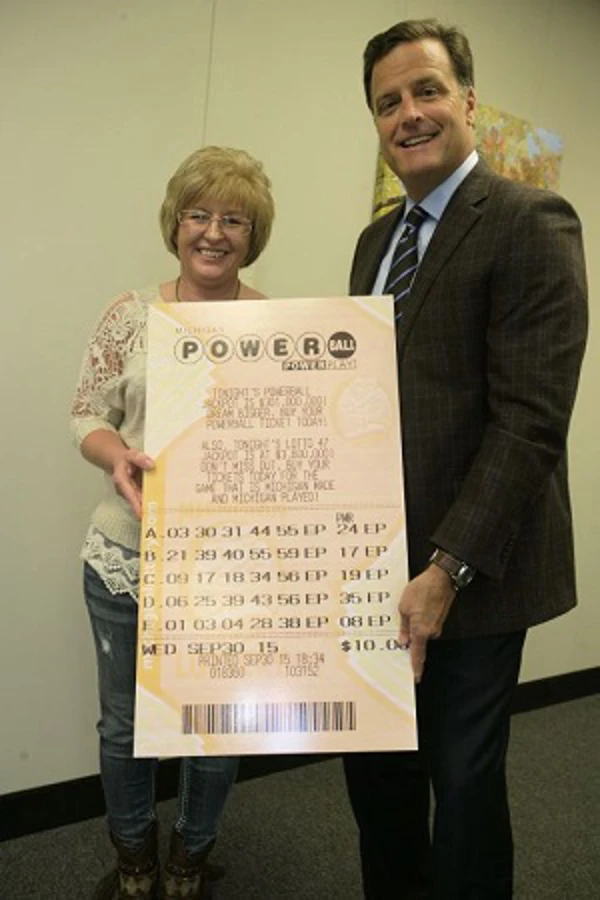 Michigan – The dream of being a Lottery jackpot winner has come true for a Three Rivers woman who won a $310.5 million Powerball jackpot from the Michigan Lottery.
Julie Leach, 50, matched all of the winning numbers drawn in the Sept. 30 Powerball drawing: 21-39-40-55-59 and the Powerball, 17, to win the enormous jackpot. Leach's big win marks the third time a Michigan player has won the Powerball jackpot. The $310.5 million jackpot is the second-largest ever won in the state.
"I've played the Lottery for a long time and have dreamed of this day, but I never thought it would actually come," said Leach. "I have been in shock since I checked my ticket Thursday morning, and I don't know if it will ever wear off." Leach bought her winning ticket about 6:30 p.m. Wednesday at the Three Rivers West Shell gas station, located at 1223 West Michigan Avenue in Three Rivers. Three Rivers is about 30 miles south of Kalamazoo.
"My boyfriend told me I should stop and buy some Powerball tickets on my way to work because the jackpot was so huge," said Leach. "I stopped at the Shell station and bought 10 Powerball plays for $20. When I got back to my car I tossed the tickets in my console and went to work."
During her lunch break about 1 a.m., Leach was waiting for her food in a drive through lane when she remembered she had purchased tickets for the Powerball drawing.
"It seemed like it was taking forever to get my food, so I pulled out my cellphone and checked my Powerball tickets," said Leach. "First, I checked to see if I had matched the Powerball number. When I saw I had matched it, I started checking the numbers on that line one-by-one. When I saw I had matched three, I remember thinking: 'Well that's pretty cool, I won like $200.'
"When I saw that I had matched all five numbers and the Powerball, I just couldn't believe it. I must have checked and re-checked my ticket 10 times."
When Leach returned to work, she quietly asked a couple of co-workers to double check her ticket.
"Both of my co-workers thought I was playing a joke on them," said Leach. "One of my co-workers was sure it was a hoax, but after a few minutes he said 'Get the hell out of here, you're a winner!' That is exactly what I did, I clocked out for the final time of my 20-year career and went home."
Once home, she woke up her boyfriend of 36 years, Vaughn Avery, to tell him the life changing news.
"I was in a deep sleep and had actually been dreaming that we had won the Lottery with the tickets I told her to buy," said Avery. "As soon as I heard her voice I knew something was going on, but I didn't think she was going to tell me she had won Powerball."
"Vaughn couldn't believe what I was telling him," said Leach. "We sat in the living room of our house for hours laughing and crying, trying to process what was happening and how our lives had changed. We would have been pleased with $500,000 or $1 million, to win $310.5 million is unbelievable.
"About 4:30 a.m., Vaughn said he needed to get ready to go to work, and I told him he was never working again."
Next the couple shared the good news with their two children and their families.
Leach chose to receive her $310.5 million jackpot as a one-time lump sum payment of $197.4 million, rather than an annuity. After tax withholdings, she will receive about $140 million.
With her winnings, Leach plans to pay off her bills, purchase a new home for herself and Avery, as well as a new home for each of their children, and travel with her family.
"To know that we will be debt free is an incredible feeling," Leach said. "Vaughn and I have worked so hard all of our lives to provide for our family and now we can all relax and enjoy spending time together."
"It's wonderful to know that my kids will be taken care of and won't have to work like I did. They'll be able to enjoy life, and that makes me incredibly happy," she said wiping away a tear.