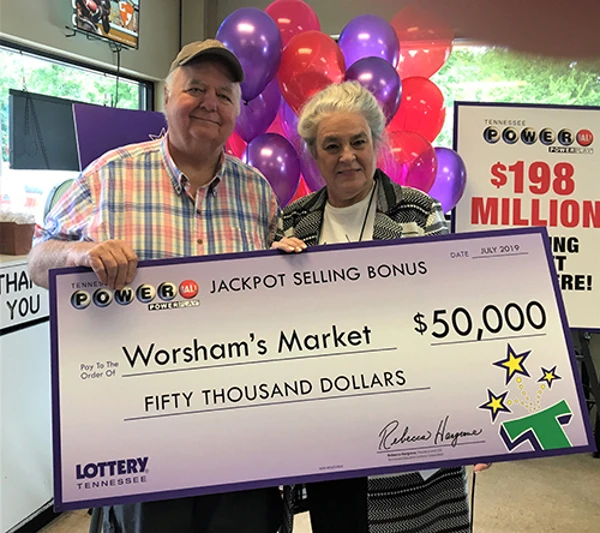 **NASHVILLE —**The****Tennessee Lottery announced today the Tennessee location that sold the lucky Powerball ticket drawn Saturday, July 13, is Worsham's Market, 2030 New Hope Rd., in Hendersonville.
Rebecca Hargrove, Lottery President and CEO, congratulated the lucky owner, Bobby Worsham, with a $50,000 selling bonus today at his store. Worsham's Market has been in business at the same location since 1901, with Bobby being the third generation to own the store. And Ms. Hargrove was delighted to see that the fourth generation of Worshams were working there, keeping the 118 year-old business in the family.
Meanwhile, no word about who is holding the winning Tennessee ticket. Lottery officials advise that the lucky ticket-holder sign the back of the ticket, keep it in a secure location, consult with a financial advisor, and call the Lottery headquarters in Nashville before coming to claim the prize.
The Lottery will release additional details as they become available. Until then, here are a few quick facts:
Jackpot Winner: Player matched all six *Powerball *numbers drawn to win the $198 million jackpot. (Cash option $128.1 million.)
There have been 76 *Powerball *winners in Tennessee of $1 million or more; 7 of those have been jackpot winners.
$198 million, July 13, 2019; Hendersonville
$420.9 million, Nov. 26, 2016; Lafayette
$528.8 million (one-third of $1.58 billion jackpot), Jan. 13, 2016; Munford
$144.1 million, Nov. 4, 2015; Antioch
$50 million March 21, 2015; Knox County
$259.8 million, June 11, 2014; Knoxville
$25.5 million, March 30, 2005; South Pittsburg
The Tennessee Lottery has now sold 273 winning Lottery tickets worth a million dollars or more.
The winner has 180 days from the date of the drawing to claim the prize.
About the Tennessee Education Lottery Corporation
The Tennessee Education Lottery Corporation operates entirely from the revenue it generates through the sale of its products. Since January 20, 2004, the Lottery has raised more than $5 billion to fund designated education programs, including after-school programs, college grants and scholarships and Drive to 55 initiatives.
In addition to the educational beneficiaries, players have won more than $13.5 billion in prizes and Lottery retailers have earned more than $1.2 billion in retailer commissions.
For additional information, visittnlottery.comand follow us on Facebook, Twitter & Instagram.