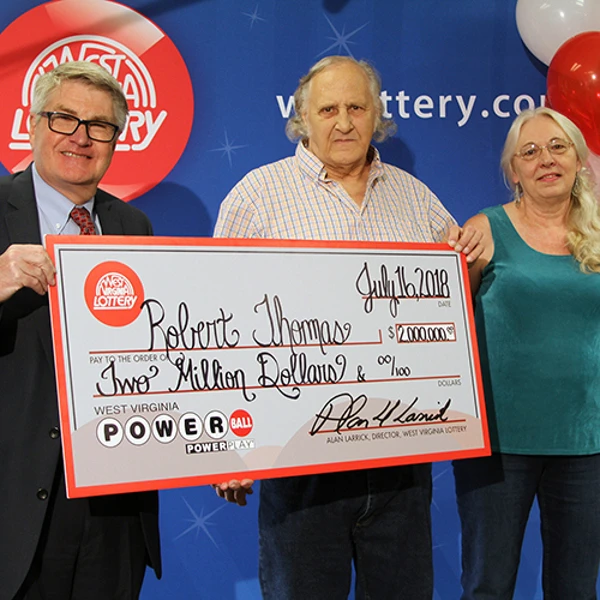 West Virginia – Robert Thomas and his wife Mary were introduced by Lottery Director Alan Larrick as West Virginia's newest millionaires at a press conference at Lottery Headquarters in Charleston on Monday.
Robert purchased a quick pick Powerball ticket, with the Power Play option, that matched five numbers from the Wednesday, July 11 drawing at Fas Chek #3 on Campbell's Creek Drive. The ticket was worth $2 million. Fas Chek number #3 will receive a 1% selling bonus of $20,000.
Mr. Thomas says he found out he had won when he checked the ticket at the Fas Chek the next day. "Dave (David Eicher, the store owner) tried to convince me that I won, but I didn't know whether to believe him or not," Thomas said. "Then once I realized I did win, I was sure glad I paid the extra dollar for the Power Play option because that made a big difference."
The lucky ticket was one of only three in the country to match five numbers for this particular drawing, and the only one to do so with the Power Play option which doubles the prize from $1 million to $2 million. The winning numbers for Wednesday's drawing were 19-21-27-46-47 and the Powerball was 7.
"When I got home, I told my wife I forgot what I went to the store for because they told me I won $2 million," Thomas said. "I'll pay some bills with it, but its security for my wife. We've both worked hard all our lives and we both have health issues now so this will help."
The match 5 win also continues a streak of good luck for Thomas. Robert was one of 25 West Virginia Lottery players to win a spot on next January's Power Cruise™ earlier this year. Thomas earned entries for that promotion by buying Powerball tickets with the Power Play option and entering them online in a series of second-chance drawings.
"It definitely pays to play with the Power Play," Thomas said. "We've never really been out of West Virginia on a trip like that. We have both worked hard are whole lives and really appreciate this. I had joked with the store owner of the Fas Chek when I won the cruise that I wish it was money instead, and now this. I am definitely going to buy a Mega Millions ticket for tomorrow night and a Powerball one for Wednesday."