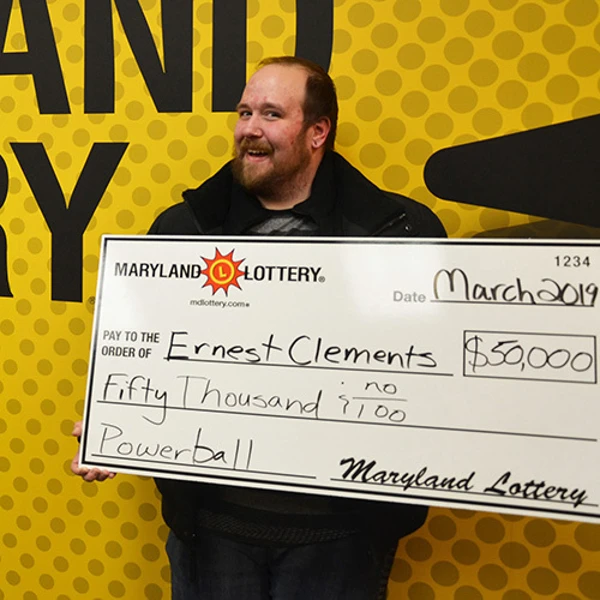 Maryland – Powerball mania is here and Baltimore resident Ernest Clements has joined the crowd chasing multi-million dollar dreams. He also is among the lucky Maryland players winning prizes of $4 to $50,000 as the jackpot rolled to $750 million for the Wednesday, March 27 drawing.
On March 20, the 30-year-old matched four of his numbers and the Powerball, winning the game's $50,000 third-tier prize.
Although he was just one number away from winning the big jackpot, the retail manager beamed as he told Maryland Lottery officials about the moment he knew he had hooked a big prize! Playing Powerball is a family tradition and he and his mother will often alternate weeks, each trying their luck at the mounting jackpot. On the night he found his Lottery luck, the jackpot was at $550 million.
When Ernest got a text message from his mother reminding him to check his ticket, he did. He compared each line of quick-pick numbers on the $10 ticket to the results. When Ernest got to the last line on his ticket, he was amazed to see the matches.
Ernest knew his win was big and confirmed it with a quick scan of his ticket using the Lottery's smartphone app. The moment was overwhelming.
"My heart was pounding. I was so nervous! There I was, screenshotting the result to my mother on the street with a little piece of paper worth $50,000 in my hands," he said.
The lucky winner rushed home and kept the ticket on ice – literally! For safekeeping, he slipped the ticket into a freezer bag and hid it in a box of ice cream bars. His family lives in several locations so Ernest got everyone together on a conference call to share the great news. It was a moment the winner describes as pure joy.
The Baltimore man's Powerball prize will go to pay off debts, help with wedding costs and a move.