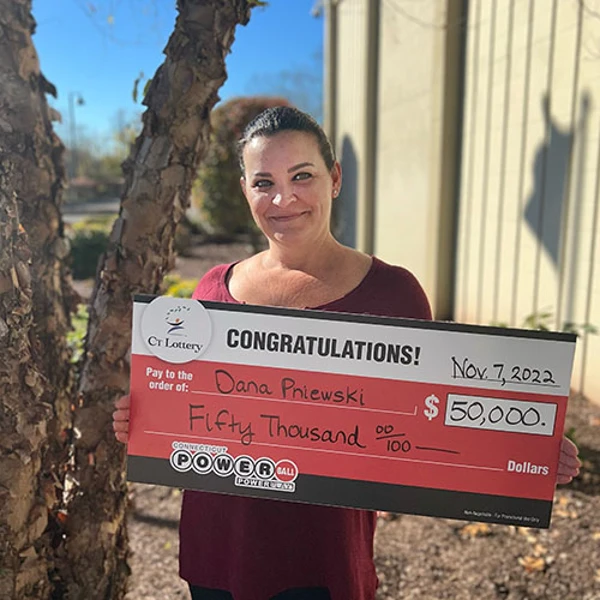 Connecticut – It was the day before Dana Pniewski's payday and the Stratford resident, who rarely carries cash anymore, had just enough cash in her wallet to buy two $2 Powerball tickets to get in on the colossal $2.04 billion Powerball jackpot drawing for Nov. 7. One of the two tickets she purchased from the Stratford Cigar & Smoke Shop in Stratford were played with her father's old roulette numbers.
When the winning Powerball numbers 10 - 33 - 41 - 47 - 56 and Powerball 10 were announced after the Nov. 7, 2022 drawing occurred, Pniewski said he knew she won something because she definitely had two 10's on her ticket.
"I called home to double-check the winning numbers and got confused because I thought my own numbers were being repeated back to me. That's when I realized I had matched four numbers and the Powerball—I won $50,000!"
Pniewski, one of four $50,000 Powerball prize winners for this date, said the unexpected prize win will be a huge help financially. It will be used to pay off her bills and the rest will be put away as an investment.
For the November 7th drawing, the CT Lottery sold more than 141,447 winning tickets, and four of those were for $50,000. Those winning tickets were sold at:
Ellington Road Runners, Ellington;
Westport Amoco, Westport;
Stratford Cigar & Smoke Shop, Stratford;
Skay Line (Gulf), Cromwell.
Players for the November 7 drawing have 180 calendar days from November 8 (due to the delay) -- or until May 7, 2023 -- to claim their winning tickets. Prizes for this drawing ranged from $4 for simply matching the Powerball number, to the $50,000 prizes for matching four numbers and the Powerball number. The overall odds of Powerball or Powerball with Power Play are 1 in 24.9. Jackpot odds are 1 in 292,201,338.